STEM. As English majors, many of us are probably used to hearing this field like it's our older, cooler brother that we will never live up to. There undoubtably exists a hierarchy of fields to study and work in. In my opinion, here's a solid (albeit unfortunate) representation (excuse the language in it, though; I just found it!):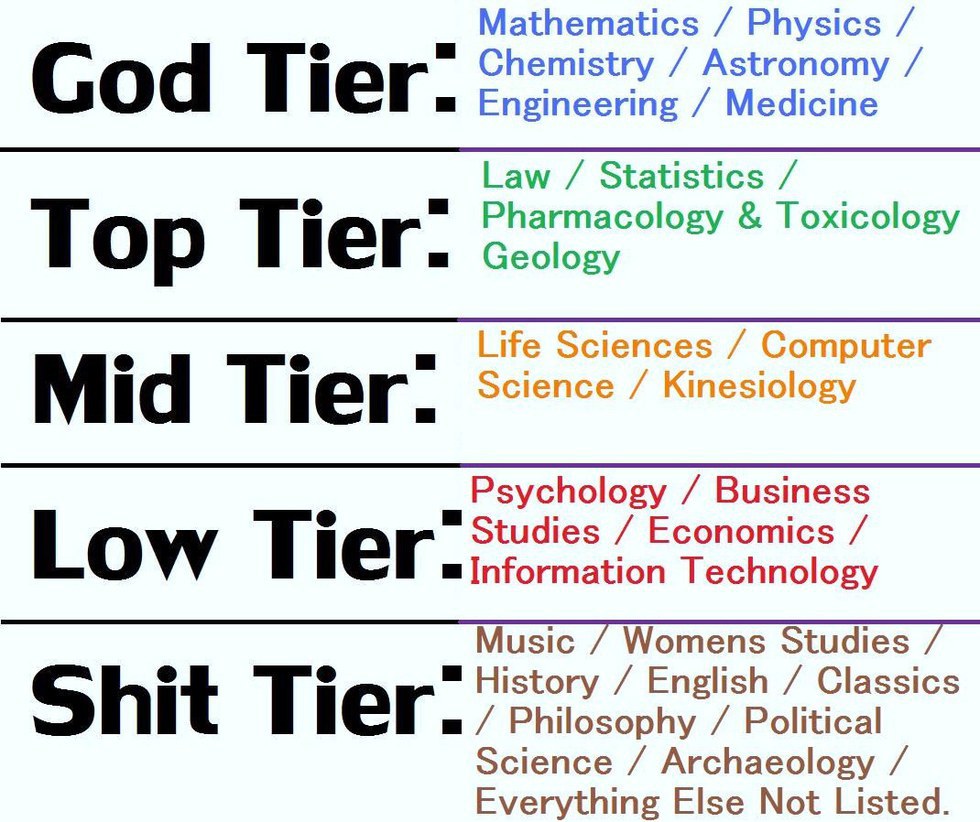 I'm interested to see if people agree with the way this hierarchy is laid out. Personally, I was surprised to see Business Studies and Economics so low. This observation leads me to my point: while everyone has their own view of each field's value (everyone has their own "hierarchy"), what discipline almost always seems to be coming in strong at the bottom?
That's right. Ours!
Many English folks who feel the same way take a stabbing at STEM. "Put the STEM people in their place!" raged one of my friends. Don't get wrong: I understand the frustration that is clearly fueling remarks like this one. It's tiresome to routinely feel under-appreciated by society, especially people closest to you. For instance, your uncle at Thanksgiving who gives you the "…oh…" look when you remind him what your major is, your bio major friend who laughs at you for thinking that your homework is so hard, and maybe one of your parents who urged you to reconsider and proceed with caution as you declared your Lit major.
While these back-handed compliments and condescending storm clouds follow us, allow me to argue that it is important to not let these get to our head. The worst thing we can do? Give flack right back to STEM. Society needs everyone's talents to function holistically, and that includes the dear humanities…and yes, STEM! Though hierarchies of all the fields (like the one above) are everywhere, they ultimately are propelling the issue of competition between disciplines. Only when we realize every field exists on equal grounds is when our society will function at peak performance. The more people bash the humanities, the less students will want to study them, so the less we will see new books, music, art, and media.
Let's learn to embrace each and every discipline and try to make efforts to diminish the hierarchies that exist inside our own heads. In fact, doesn't it get tiring having to argue all the time?
(Oh, wait…we can vouch that is does. After all, how many argumentative essays have we composed? I know I stopped counting.)